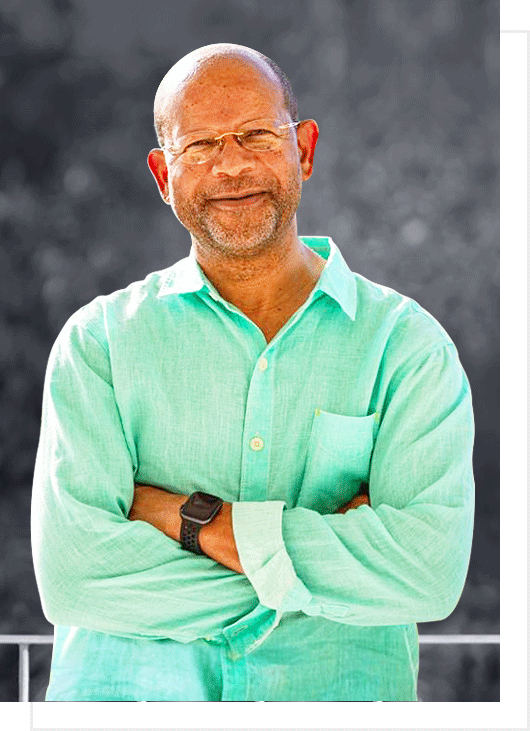 John R.
Franklin, M.D., M.A
Board Certified Urologist in the Virgin Islands
Dr. John R Franklin specializes in urology in Saint Thomas, VI and has over 32 years of experience in the field of medicine. He graduated from Columbia School Of Medicine with his medical degree in 1988. He is affiliated with numerous hospitals in Virgin Islands and more, including Roy Lester Schneider Hospital,the. Dr. John R Franklin is licensed to practice by the state board in Virgin Islands
Dr. John R Franklin also practices at 9003 Havensight, Saint Thomas, VI. He is accepting new patients at his medical office, and available for appointments, preventative care, medical care as well as ongoing patient care.
Public Health School
Columbia School of Public Health (Epidemiology)
M.P.H., [Degree expected when final paper finished]


UCLA School of Public Health, Department of Epidemiology, M.P.H., September 1996 - June 1997
Medical School
Columbia University College of Physicians and
Surgeons, M.D. Degree - May 1988


College/Graduate Queens College, Queens, New York
School
Premedical Program, Major in Chemistry
B.A. Degree, Cum Laude - September 1980 to May 1984


Queens College, Queens, New York
Premedical Program, Major in Chemistry
M.A. Degree - September 1980 to May 1984
Staff Physician III - Urology


The Roy L. Schneider Hospital
February 2000 to Present



Staff Physician - Urology


Juan Luis Hospital
2002 to 2010



Director


Virgin Islands Urologic Center, Inc.
February 2000 to Present



Assistant Professor of Urology


Columbia University
March 1998 – January 2000



Assistant Attending


New York Presbyterian Hospital
March 1998 – January 2000



Assistant Attending


St. Lukes/Roosevelt Hospital
January 1998 to January 2000



Assistant Professor in Urology (Oncologist)


Albert Einstein College of Medicine/Montefiore Medical Center
July 1997 - January 1998



Urologic Oncologist


West Los Angeles, Veterans Affairs Medical Center (Wadsworth)
July 8, 1996 - July 1997



Co-Chairman, Prostate Cancer Center of Excellence


West Los Angeles, Veterans Affairs Medical Center (Wadsworth)
December 1996 - July 1997



Assistant Clinical Professor


UCLA School of Medicine, Department of Urology
July 1, 1996 - June 1997



Research Urologic Oncology Fellow/Clinical Instructor


UCLA School of Medicine, Division of Urology, Department of Surgery
July 1995 - June 1996



Clinical Urologic Oncology Fellow/Clinical Instructor


UCLA School of Medicine, Division of Urology, Department of Surgery
July 1994 - June 1995



Urology Residency


Columbia University, Urology Department
July 1990 - June 1994



Research


Columbia University, Urology Research Department
July 1989 - June 1990



Internship


Nassau County Medical Center
Categorical General Surgical Residency
July 1, 1988 - June 30, 1989
1998 American Board of Urology (Diplomate)
Virgin Islands Medical License
January 3, 2000 (active)



DEA Number

BF3929190
Expiration
September, 2020
American Urologic Association (National)
AUA (New York Section)
National Medical Association
Peer Reviewer, The Journal of Urology
Peer Reviewer, Urology
UCLA's Department of Epidemiology, School of Public Health Traineeship Award - 1996
National Institute of Health, Tumor Immunology Training Grant - June 1995
American Foundation for Urologic Disease, Inc., National Kidney Foundation Joint Resident Fellowships - 1992
First Prize Essay Contest Winner - The Society of Basic Urologic Research - 1992
Salk Scholar Award - 1984
Queens College Graduate Student Award - 1984
Queens College Division of Mathematics and the Natural Sciences Award - Honors in Chemistry - 1984
Principal Investigator: A National Phase II Trial of Intron, Interferon alfa Treatment of Superficial Bladder Cancer. Schering. Dates 11/1999 to 1/31/2000


Principal Investigator: Race/Ethnic based genetic variations in human genes: Defining the genetic evidence for disparity of prostate cancer risk and mortality between different populations. Department of Defense, Prostate Cancer Research Program, Minority Population Focused Training Award. Dates 2/15/99 to 8/14/99


Principal Investigator: A phase II open randomized multi-center trial to determine the efficacy and safety of the combination of liarozole with prednisone in patients with relapse hormone-resistant prostate cancer. LIA-INT-29. Janssen Research Foundation


Principal Investigator: International phase II randomized double blind, multi-center study of liarozole in patients with rising PSA after definitive therapy. LIA-INT-26. Janssen Research Foundation


Co-Investigator: Ethnicity and Veteran Identity as Determinants of VA Ambulatory Care Use (Pending minor revisions)
Belldegrun AS, Franklin JR, O'Donnell MA, Gomella LG, Klein E, Neir R, Nseyo UO, Ratliff TL, and Richards W: Superficial Bladder Cancer: The role of Interferon alpha therapy. J Urol, 159:1793-1799, (1998)


Figlin R, Gitlitz B, Franklin J, Dorey F, Moldawer N, Rausch J, deKernion J, and Belldegrun A: Interleukin-2-based immunotherapy for the treatment of metastatic renal cell carcinoma: an analysis of 203 consecutively treated patients. Cancer J Scientific Amer., 3(suppl 1): 92-97, (1997)


Hoh C, Spencer MA, Franklin J, deKernion JB, Phelps ME, Belldegrun A: Positron emission tomography in urologic oncology. J Urol, 159: 347-356, (1997)


Patel A, Dorey F, Franklin J, and deKernion J: Recurrence patterns after radical retropubic prostatectomy: Clinical utility of PSA doubling times and log slope PSA (prostate specific antigen). J Urol., 158: 1441-1445, (1997)


Franklin JR, and Belldegrun AS: Tumor immunity. In Oesterling J, and Richie J (eds), Urologic Oncology. Philadelphia PA, Saunders, pp 34-52, (1997)


Franklin JR, Figlin R, Rauch J, Gitlitz B, Dorey F, deKernion JB, and Belldegrun AS: The role of cytoreductive surgery in the management of metastatic renal cell carcinoma. Seminars in Urologic Oncology 14 (4):230 (1996)


Franklin JR, Figlin R, Belldegrun AS: Renal cell carcinoma: Basic biology and clinical behavior. Seminars in Urologic Oncology 14 (4):208 (1996)


Franklin JR, Raz S, deKernion JB: Female neobladder construction utilizing the UCLA 1 (ileocolic) pouch. In Olsson CA (ed), Surgical Techniques in Urology. 8 (5) (1995)


Franklin JR, deKernion JB: Kidney tumors - what's new? Current Opinions in Urology 5 (5):225 (1995)


Belldegrun A, Franklin JR, Figlin R: Prognostic factors in renal cell carcinoma. J Urol. 154:1274 (1995)


deKernion JB, Franklin JR, Belldegrun A, and Smith RB. Surgery for Clinically Localized Prostate Cancer. In RTD Oliver et al. (ed), Preventing Prostate Cancer: Screening versus Chemoprevention. Cold Spring Harbor Laboratory Press New York, pp 315-320 (1995)


Franklin JR, and deKernion JB. Surgical Approaches To Renal Cell Carcinoma. in MS Ernstoff et al. (ed), Urologic Cancer. W.W. Norton & Company, N.Y., London (1996)


Franklin J, and Benson M. New Techniques in Management and Treatment of Superficial Bladder Cancer. In DE Neal (ed.), Tumours in Urology. Springer-Verlag London Berlin Heidelberg New York, pp 65-78 (1994)


Franklin JR, Olsson CA, and Sawczuk IS. Safety of Urologic Surgical Interventions in the Elderly. Geriatric Nephrol. and Urol. 2: 105 (1992)
Franklin JR

: Endoscopic treatment for papillary TCC of upper tract. National Medical Association. August 2-7, 1997



Franklin JR

, Pang S, Dannul J. Sawyer C, Kaboo R, Tso C-L, and Belldegrun A: An Upstream regulatory region augments prostate specific antigen (PSA) promoter activity: In vivo studies. National Medical Association. August 2-7, 1997



Franklin JR

, Dorey J, Patel A, Litwin MS, deKernion J: Improved continence after radical retropubic prostatectomy: A modified apical dissection. National Medical Association. August 2-7, 1997



Franklin J

, Pang S, Dannul J, Sawyer C, Kaboo R, Tso C-L, and Belldegrun A: Cloning of an upstream regulatory region augments prostate specific antigen (PSA) promoter activity: In vivo studies. (Abstract) accepted AUA, April, 1997


Belldegrun A, Franklin J, Dorey F, Rauch J, deKernion J, and Figlin R: Immunotherapy for renal cell carcinoma: The UCLA experience. (Abstract) accepted AUA, April, 1997


Seltzer M, Hoh C,

Franklin J

, Naitoh J, Gitlitz B, Figlin R, Silverman D, deKernion J, Phelps M, Belldegrun A: Positron emission tomography (PET) imaging for staging of renal, testicular, and prostatic neoplasms. (Abstract) accepted AUA, April, 1997


Naitoh J,

Franklin J

, Patel A, and deKernion J: Comparing results of patient-based and physician-based reported rates of urinary incontinence following radical prostatectomy. (Abstract) accepted AUA, April, 1997


Hoh CK, Figlin RA, Seltzer MA, Belldegrun A, Franklin J, Gitlitz B, Phelps ME, Maddahi J: Prognostic value of a whole body FDG PET vs conventional imaging for the evaluation of biologic therapy in renal cell carcinoma. (Abstract) The Society of Nuclear Medicine 44th Annual Meeting, June, 1997


deKernion JB,

Franklin J

, and Patel A: Radical retropubic prostatectomy: Improved continence after a modified apical dissection. Western Section American Urological Association (72nd Annual Meeting). (Abs. 3) Jul 28 - Aug 1, 1996


Belldegrun A, Franklin J, Dorey F, Gitlitz B, Rauch J, deKernion J, Figlin R: Patients with metastatic cell carcinoma (mRCC) treated with IL-2 based immunotherapy with or without tumor infiltrating lymphocytes: Long term survival. Western Section American Urological Association (72nd Annual Meeting). (Abs. 109) Jul 28 - Aug 1, 1996



Franklin J

, Dorey F, Gitlitz B, deKernion J, Figlin R, and Belldegrun A: The role of combination surgery and immunotherapy in the management of advanced renal cell carcinoma. Western Section American Urological Association (72nd Annual Meeting). (Abs. 110) Jul 28 - Aug 1, 1996



Franklin JR

, deKernion JB, Patel A, Smith RB, Dorey F, and Rajfer J: Peyronie's disease occurring after radical retropubic prostatectomy: Fact or friction. Western Section American Urological Association (72nd Annual Meeting). (Abs. 166) Jul 28 - Aug 1, 1996


Hoh CK, Figlin RA, Belldegrun A, Moon DH,

Franklin J

, Phelps ME, and Maddahi J: Evaluation of renal cell carcinoma with whole body FDG PET. Proceeding of the 43rd annual meeting of the society of nuclear medicine. J Nuclear Med., 37(suppl): 141P, 1996



Franklin J

, Marks L, Dorey F, Shery ED, and deKernion J: Serum PSA levels following TURP in men with BPH: Long-term characterization. Proceeding of the American Urologic Association. J Urol., 155(suppl): 378A, 1996


Belldegrun A,

Franklin J

, Dorey F, Rauch J, deKernion J, and Figlin R: Long term survival of 181 patients with metastatic renal cell carcinoma (mRCC) treated with IL-2 based immunotherapy with/without tumor infiltrating lymphocytes. Proceeding of the American Urologic Association. J Urol., 155(suppl): 385A, 1996


Sokoloff M, Tso C-L,

Franklin J

, Nelson S, Dorey F, deKernion J, and Belldegrun A: Quantitative polymerase chain reaction [PCR] does not improve prostate cancer [PC] staging: A clinical-pathologic-molecular analysis of 121 patients. Proceeding of the American Urologic Association. J Urol., 155(suppl): 417A, 1996



Franklin J

, Pang S, Sawyer C, Kaboo R, Tso C-L, deKernion J, and Belldegrun A: Prostate specific gene therapy using a novel PSA promoter: In vivo studies. Proceeding of the American Urologic Association. J Urol., 155(suppl): 437A, 1996


Dorey F,

Franklin J

, deKernion J, and Smith R: Use of multiple PSA values for predicting clinical disease recurrence after radical retropubic prostatectomy (RRP). Proceeding of the American Urologic Association. J Urol., 155(suppl): 487A, 1996



Franklin J,

Dorey F, Gitlitz B, deKernion J, Figlin R, and Belldegrun A: Cytoreductive nephrectomy in 63 consecutive patients who received adoptive immunotherapy for advanced renal cell carcinoma. Proceeding of the American Urologic Association. J Urol., 155(suppl): 500A, 1996



Franklin J

, Hoh C, Gitlitz B, Phelps M, Figlin R, and Belldegrun A: Positron emission tomography (PET) scan for imaging of advanced renal cell carcinoma (RCC). Proceeding of the American Urologic Association. J Urol., 155(suppl): 581A, 1996


Sokoloff M, Tso C-L, Randhir K, Franklin J, deKernion J, Pang S, Belldegrun A: Super-sensitive and quantitative polymerase chain reaction (PCR): An innovative technique for staging and monitoring prostate cancer. J Urol 153:294A, 1995


deKernion J, and

Franklin J

: Improved preservation of continence after radical prostatectomy or cystectomy. Pan African Urological Surgeons' Association (2nd Biennial Conference) Sept 4-8, 1995


deKernion J, Raz S, Franklin J, and Seto E: Long-term results of the continent ileocecal urinary reservoir. Pan African Urological Surgeons' Association (2nd Biennial Conference) Sept 4-8, 1995



Franklin JR

, Raz S, and deKernion JB: Ileocolonic female neobladder. Western Section American Urological Association (71st Annual Meeting). (Abs. 168) Nov 5-9, 1995


deKernion JB, Trapasso JG,

Franklin JR

: Improved continence following radical retropubic prostatectomy: a modified apical dissection. Western Section American Urological Association (71st Annual Meeting). (Abs. 78) Nov 5-9, 1995



Franklin JR

, and deKernion JB: Radiation therapy for localized recurrence after radical retropubic prostatectomy. Western Section American Urological Association (71st Annual Meeting). (Abs. 233) Nov 5-9, 1995


Sokoloff M, Tso C-L, Kaboo R,

Franklin J

, deKernion J, Pang S, Figlin R, and Belldegrun A: Improved prostate cancer (PC) staging using super-sensitive and quantitative polymerase chain reaction (PCR). Western Section American Urological Association (71st Annual Meeting). (Abs. 51) Nov 5-9, 1995


Barbara GJ,

Franklin JR

, Figlin, RA, William P, deKernion J, Belldegrun A: Tumor infiltrating lymphocyte (TIL) based therapy for metastatic renal cell carcinoma (RCC). The UCLA Kidney Cancer Program. National Medical Association (Centennial Meeting). July 30, 1995



Franklin, JR

, and Hensle, T: Conservative management of renal pelvic lesions in children. Pan African Urological Surgeons Association (Inaugural international conference). Harare, Zimbabwe, May 1992



Franklin JR

, Olsson CA, and Buttyan R. Homeobox gene expression in the mammalian prostate gland. Pan African Urological Surgeons Association (Inaugural international conference). Harare, Zimbabwe, May 1992



Franklin JR

, Olsson CA, and Buttyan R. Expression of homeobox genes in the rat ventral prostate gland. J Urol 147: 318A (1992)



Franklin, J

: The novel expression of homeobox genes in the mammalian prostate. Ferdinand C. Valentine Urology Residents' Essay Meeting. (The New York Section of the AUA, Inc., April 1992) Abstract 74



Franklin JR

, and Bittman R, Ph.D. Synthesis of the alkyl ether phospholipid, rac-glycerol-3-phosphorylcholine 1-dodecyl ether 2-eicosyl ether and 1-eicosyl ether 2-dodecyl ether. 17th marm Abstract Booklet (ACS, April 1983) p. 208
Franklin JR, Dorey J, Patel A, Litwin MS, deKernion J: Improved continence after radical retropbic prostatectomy: A modified apical dissection
Franklin Freighting - July 1979 - March 1980
Worked with father on Freighter
Road Primary School in Anguilla - April 1980 - July 1980
Taught students in Primary School
Faith Tabernacle Baptist Church - June 1984 - August 1984
Coordinated and taught in the summer educational program for junior and high school students in the Jamaica, New York area
Columbia University - June 1985 - August 1985
Taught MCAT preparation course summer of 1985
Taught College Preparation Course to pre-college students
Scuba Diving (Certified Advanced Diver), Swimming, Traveling, and Reading
John R. Franklin, M.D., M.A
ST. Thomas

9003 Havensight, Suite 301
St. Thomas, USVI 00802

Tel:

Fax:

ST. Croix

4040 La Grande Princesse
Suite 1
Christiansted, VI 00820

Tel:

Fax:

Tortola

104 Rodus Building
Road Reef Marina
Tortola, BVI

Tel:

Fax:

Anguilla

Hughes Medical Center
1410 Lower South Hill
Anguilla, BWI AI-2640

Tel: (264) 497-3053